Winter Maternity Photography Session
This winter maternity photography session with Natale was a complete dream!  Natale, you are stunning!  We had a glorious night, with a little snow and then a beautiful golden sunset.  I was so thrilled to capture Natale's first pregnancy. And now she has returned to capture her second.  Looking forward to meeting the new little in a few weeks for his newborn session.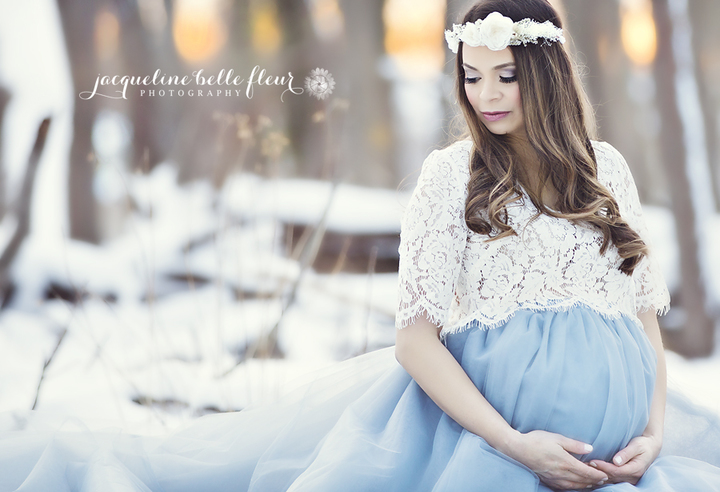 pintopinterest
Maternity Sessions at Jacqueline Belle Fleur Photography
There is nothing more gorgeous than expecting mamas and I love capturing them!  The maternity session is typically held between 7 and 8 months (or whenever expecting moms feel most comfortable ~ but remember, a fuller belly always captures better).
The session is 30-45 minutes and includes 15 hi-res images via digital transfer and allows for two clothing changes (clothing changes for mom only).  Husbands are welcome to join in.
Mostly all the beautiful gowns (royal blue, soft blue cream, tan, purple, pink, turquoise, blush lace and long tutu skirt) in the maternity galleries on my website, blog, Facebook and Instagram are all mine and clients are welcome to use them.  I have plenty of hairpieces to choose as well.
Once the maternity session is booked, I am happy to walk clients through any clothing pieces that are available as well as what I recommend for hair, make-up and manicures.
All maternity sessions are held on-location outdoors.  I have pre-scouted locations for every season.  We simply reschedule in the event of inclement weather (please keep in mind that rescheduled sessions may need to take place on a weeknight, so please be flexible).
Clients booking a newborn session along with their maternity session will receive a special discount for their newborn session – please inquire.
The maternity gallery can be viewed here.  Hope to see more beautiful bellies!  Spring is on the way and I am looking forward to capturing the cherry blossoms and yellow clover.