LOVE is in the air at the studio this week! I had so much fun with this Valentine's Day newborn session. This little lovebug's mom really likes the holiday, so we played with fresh rose petals and ALL the pink props. Even the wood backdrop is pink. I think the result is sweet as candy and just perfect for a brand-new baby girl. So pretty in pink!
All a new baby really needs is love, and this one is definitely surrounded by it. Congratulations to the family on their new Valentine! I think she's going to be tall — look at those long fingers and feet!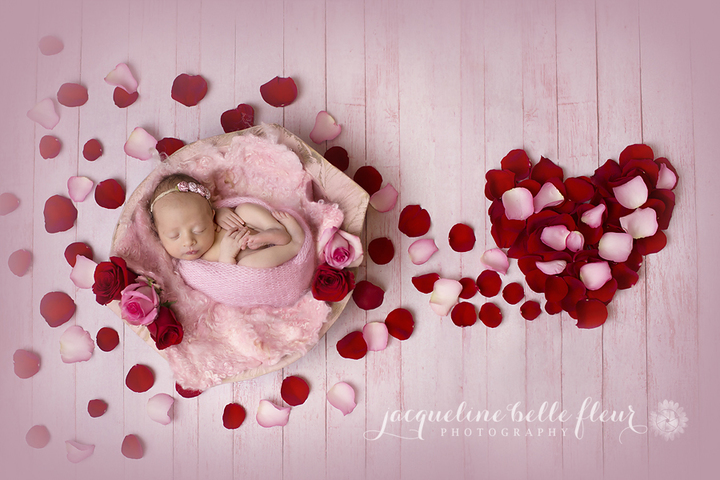 pintopinterest
Schedule your newborn session with Jacqueline Belle Fleur!
I'd love to work with your and your new little sweetheart! Each newborn session that I capture in my Cranford, NJ, studio is unique — no two are ever alike. Capturing newborns takes a special skill and patience. I promise you the very best customer service, creativity, and an overall great experience. My newborn fee includes:
the session fee (time and talent to capture, carefully select and fully edit 30-35 final images)
the base digital package — The Petal Collection (all hi-res digital files on a USB drive)
carefully and personally selected props
package upgrades and additional products also available
For more examples of my custom newborn photography, check out the gallery here. My schedule fills months in advance, and it's best to capture newborns within the first 7-10 days of life, so please email me at jacqueline@jacquelinebellefleur.com to schedule your session as soon as you can!