Unicorn Themed 1st Birthday Cake Smash
Unicorns are everywhere right now, so of course I was thrilled to do a unicorn themed 1st birthday cake smash! These blue-eyed twin girls made darling unicorns, and Kimmy of Kimmy's Cakes knocked it out of the park once again. The gold metallic horns and eyebrows on the mirror-image cakes really pop, and I can't even imagine how long it took her to carefully curl all those colorful fondant unicorn locks. Rather than going full-on rainbows with our unicorns, we focused on girly purples, pinks, aqua and mint for this shoot, and it's got me ready for spring!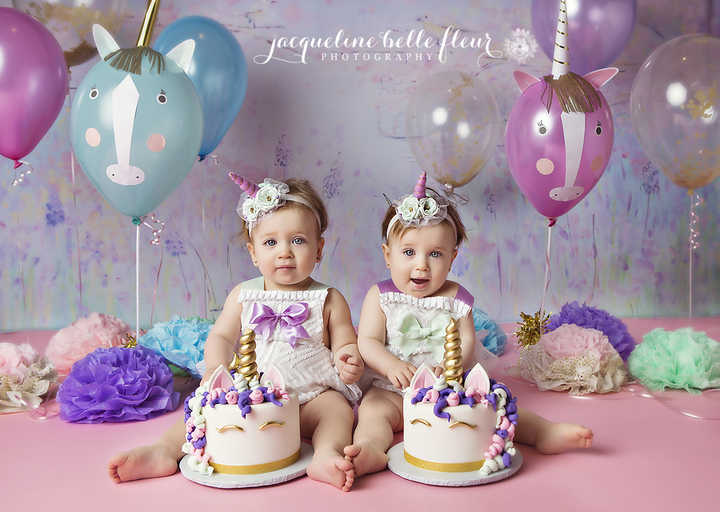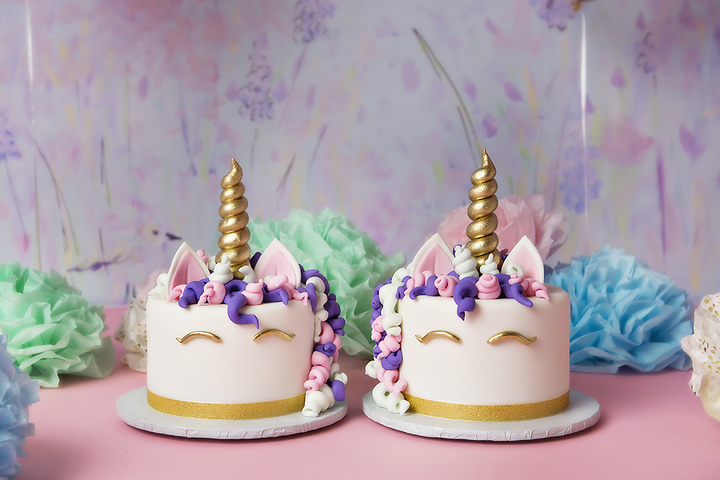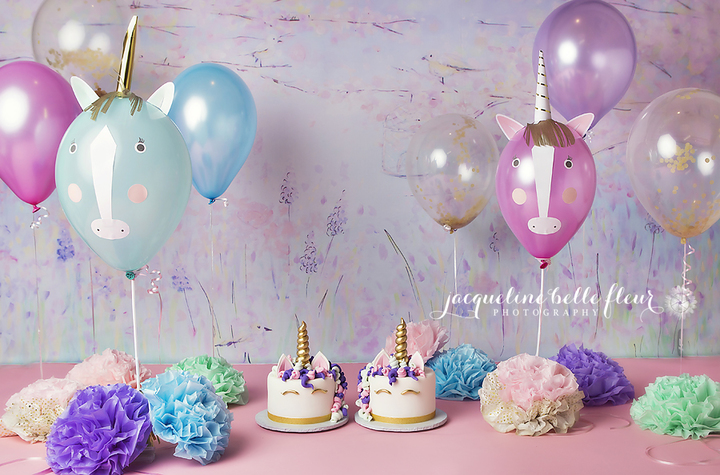 These sweet sisters were a little timid at first, but they figured out what "smash" meant soon enough. Look at those innocent eyes — I would seriously have trouble not giving these girls everything they want! I loved capturing their little crumb-covered fingers, toes and even bums. Happy birthday, lucky ladies!

Schedule your baby's 1st Birthday Cake Smash with Jacqueline Belle Fleur!
1st Birthday Cake Smash sessions take place in my Cranford, NJ studio and include the following:
the session fee (time and talent to capture, carefully select and fully edit 40-50 final images)
the base digital package — The Petal Collection (all hi-res digital files on a USB drive)
a beautiful, personalized cake from Kimmy's Cakes
carefully and personally selected props such as handmade swags, balloons and paper flowers to match your theme
I know how busy parents are, so I do all the errand-running, crafting and styling for you. You just bring the baby in his or her adorable outfit!
In addition to the unicorn theme featured in this post, I'm also excited to offer the following this year, many of which work well for both boys and girls: airplanes, hot air balloons, carnival, sailing, "Down on the Farm," Bohemian flowers, Bohemian "Wild One" with arrows, "Where the Wild Things Are," music, Cookie Monster, Mickey Mouse, lavender fields, carousel, Paris, ballerinas, blue stars, angel and clouds, and woodland animals. You can even just pick a color scheme, and we'll roll with that!
As always, feel free to email me at jacqueline@jacquelinebellefleur.com.