"Sweet bird, my soul, your silence is so precious.
How long will it be before the world hears your song in mine?
Oh, that is a day I hunger for!"
— From "Two Birds" by Michael Jackson
I consider newborn photography an art form, and this tree composition with two little birds in a nest is my most recent masterpiece. Imagery of trees, nests and birds are often used to symbolize birth, growth and the relationship between mothers and babies. It was a joy to see this all come together, from the thick, gnarled trunk, to each carefully placed leaf and berry cluster. Our sweet little live birdie (who has gorgeous head of hair!) was cozy in the nest with the artificial one, and was blissfully unaware of all the styling going on. This is sure to be a treasured family heirloom.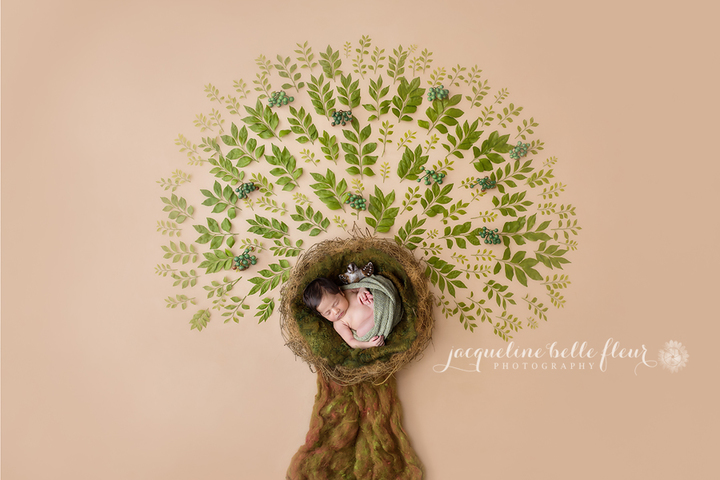 pintopinterest
Schedule your newborn session with Jacqueline Belle Fleur!
I would love to have the opportunity to turn your new bundle of joy into a work of art! Each newborn session that I capture in my Cranford, NJ, studio is unique and takes a special skill and patience. I promise you the very best customer service, creativity, and an overall great experience. My newborn fee includes:
the session fee (time and talent to capture, carefully select and fully edit 30-35 final images)
the base digital package — The Petal Collection (all hi-res digital files on a USB drive)
carefully and personally selected props
package upgrades and additional products also available
For more examples of my custom newborn photography, check out the gallery here. My schedule fills months in advance, and it's best to capture newborns within the first 7-10 days of life, so please email me at jacqueline@jacquelinebellefleur.com to schedule your session as soon as you can!