Happy Valentine's Day! Isn't this the most adorable Cupid you've ever seen? She has the sweetest, almost sad expression that just melts my heart, and her lips look ready to give kisses! Her burlap wings and bow and arrow tie in with the twine on the wreath, and the red bows on her headband go perfectly with the roses. I'm officially in love, and I know her parents are too!
This image, of course, was achieved thanks to some post-production magic, so don't worry, she's not in any danger. I have so much fun redecorating my wreath for different seasons, holidays and occasions, and this Valentine's Day version is definitely one of my favorites. I hope you all have a day full of snuggles with your little ones!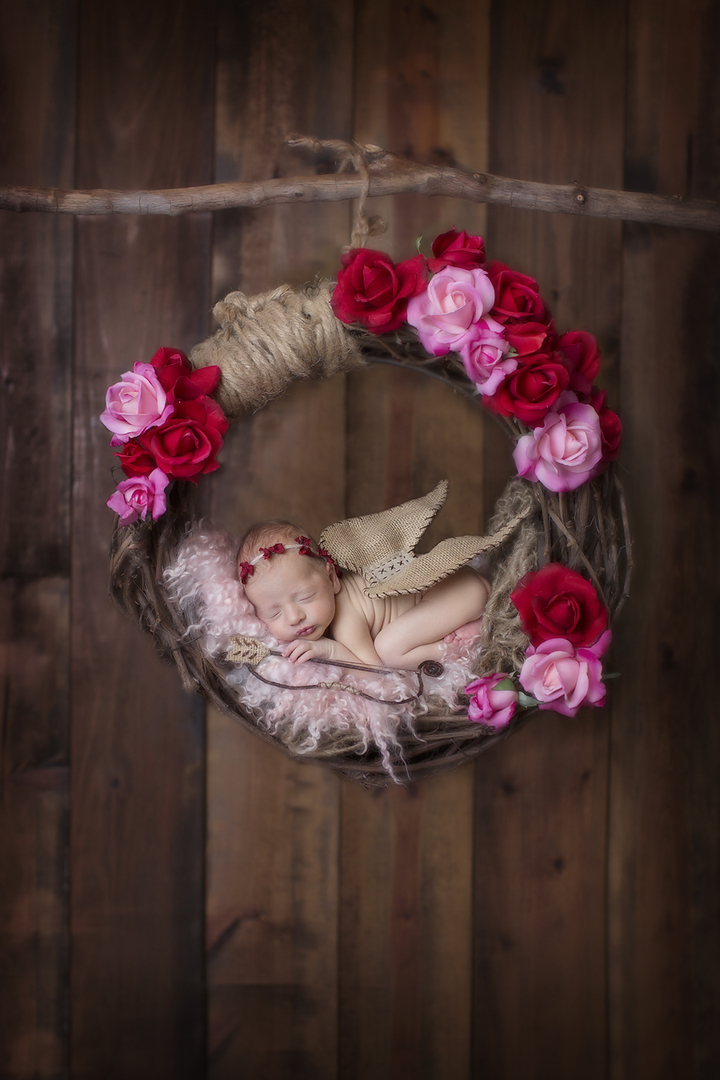 pintopinterest
Schedule your newborn session with Jacqueline Belle Fleur!
Are you expecting a new little love? I would be honored to work with you. Each newborn session that I capture in my Cranford, NJ, studio is unique — no two are ever alike. Capturing newborns takes a special skill and patience. I promise you the very best customer service, creativity, and an overall great experience. My newborn fee includes:
the session fee (time and talent to capture, carefully select and fully edit 30-35 final images)
the base digital package — The Petal Collection (all hi-res digital files on a USB drive)
carefully and personally selected props
package upgrades and additional products also available
For more examples of my custom newborn photography, check out the gallery here. My schedule fills months in advance, and it's best to capture newborns within the first 7-10 days of life, so please email me at jacqueline@jacquelinebellefleur.com to schedule your session as soon as you can!