Most parents and many photographers don't think to capture the little details of newborns, like toes, fingers, lips and hair. These might not be the most liked images on social media, or the ones you get printed on large canvases to decorate your walls, but they're so important to have.
Newborns change so much in the first few weeks of life, and parents are often in such a fog of sleeplessness and trying to figure out a new little person, they won't remember the perfect pucker of those little lips, the shapes of all those tiny toes, the way the soft, fuzzy hair swirls in the back, or how those fragile fingers lay. As many times as they'll clip those teeny nails, they'll soon forget just how small they really were.
I love to help my clients create lasting memories of this most special time. I hope that when they look back at these macro shots once their little ones are bigger, it helps transport them for a moment, and they can almost feel that soft skin and smell that fresh newborn scent all over again.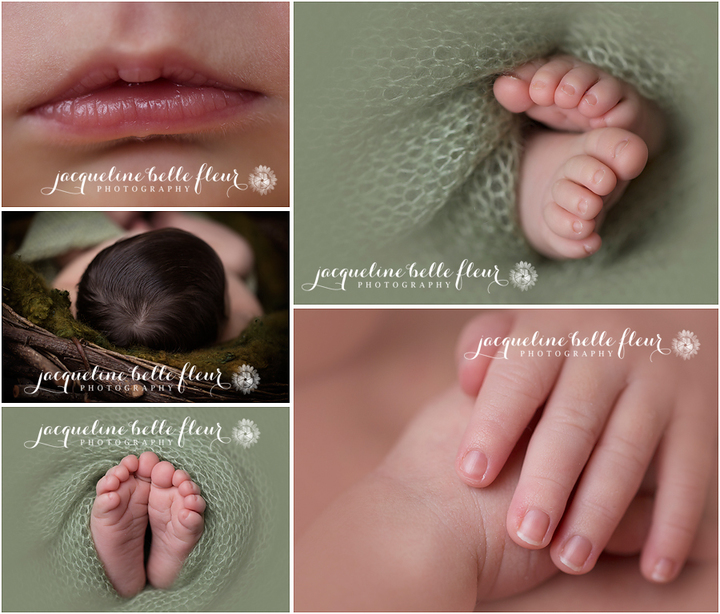 pintopinterest
Schedule your newborn session with Jacqueline Belle Fleur!
I'd love to have your precious new baby to my Cranford, NJ, studio for his or her close-ups. Each newborn session that I capture is unique — no two are ever alike. Capturing newborns takes a special skill and patience. I promise you the very best customer service, creativity, and an overall great experience. My newborn fee includes:
the session fee (time and talent to capture, carefully select and fully edit 30-35 final images)
the base digital package — The Petal Collection (all hi-res digital files on a USB drive)
carefully and personally selected props
package upgrades and additional products also available
For more examples of my custom newborn photography, check out the gallery here. My schedule fills months in advance, and it's best to capture newborns within the first 7-10 days of life, so please email me at jacqueline@jacquelinebellefleur.com to schedule your session as soon as you can!